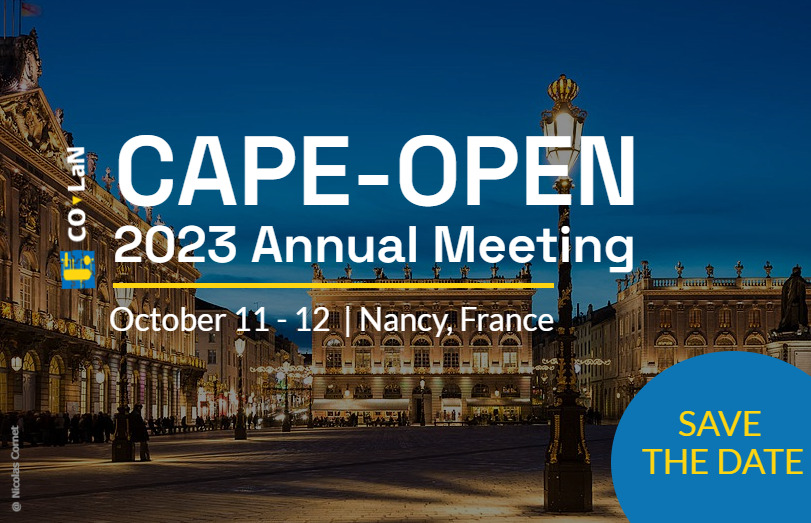 CO-LaN Management Board invites you to the CAPE-OPEN 2023 Annual Meeting, the latest in a long series of events that have always brought you insight on CAPE-OPEN, its use and its development.
On October 11 and 12, the CAPE-OPEN 2023 Annual Meeting will be hosted by Ecole Nationale Supérieure des Industries Chimiques (ENSIC) and Laboratoire Réactions et Génie des Procédés in Nancy, France (LRGP). CO-LaN thanks both ENSIC and LRGP for their kind support. CO-LaN acknowledged especially the on-site support from Prof. Eric SCHAER, deputy Director at ENSIC, and from Dr Roda BOUNACEUR, Research Engineer at LRGP, as well as President of MEMSIC. MEMSIC is a start-up specializing in membrane separation processes, providing engineering expertise as well as developing and marketing three different CAPE-OPEN Process Modelling Components.
The agenda is shaping up with contributions about use and implementation of CAPE-OPEN technology. The preliminary agenda is available below for download.
A training course on CAPE-OPEN is considered to give you a direct experience on how to develop applications, using the CAPE-OPEN technology, and to make use of it in process simulation.
Come and exchange with the CAPE-OPEN community.
PROGRAMME
DAY 1 | October 11, 2023
08:30 | Registration of Participants
09:00 | Welcome address by École Nationale Supérieure des Industries Chimiques (ENSIC) and by the Laboratoire Réactions et Génie des Procédés (LRGP)
09:30 | CAPE-OPEN Test Suite for PMCs | Malcom Woodman, MR Woodman Consulting
An update on the progress of the Test Suite for Process Modelling Components since the Annual Meeting 2022. The presentation will also cover the role of the SIGs in developing the PMC tests implemented in the Test Suite and a demo of the current Thermo Property Package tests implemented in the Test Suite.
Malcolm WOODMAN is the director of MR Woodman Consulting Ltd that has supplied services to CO-LaN since 2018. MR Woodman Consulting Ltd provides engineering related scientific and technical consulting activities. consulting activities. It operates as a private limited company and was incorporated in 2016.
10:15 | UNIT SIG Progress Report | Krishna Murthy Penukonda, AVEVA (remote)
10:30 | Break
10:50 | Mixing COBIA & COM in proprietary hydroprocessing models – a CAPE-OPEN showcase | AVEVA, Shell and AmsterCHEM
11:15 | First principles PRocess concepts for the conversion of complex MixturEs (PR1ME) as CAPE OPEN tool: challenges and opportunities | Cesar Pernalete, University of Ghent
Microkinetic modelling of chemical reactions represents an innovative approach to comprehensively account for all elementary steps involved in the considered transformations, leading to a thorough understanding of the underlying reaction mechanism. The Single-Event MicroKinetics (SEMK) variant enables the application of such a fundamental methodology towards complex mixtures, in which transformations occur through a limited number of reaction families. SEMK finds practical application in simulating processes with vast reaction networks, such as hydrocracking, hydrotreating and catalytic cracking, originally mainly in the context of fossil resources [1,2], at present also in the framework of renewable and circular feedstocks [3,4]. When dealing with complex mixtures, such as fossil hydrocarbon mixtures, renewables, and plastics-derived oils, the exact molecular composition is typically unknown, posing a challenge in applying the SEMK methodology to reactive processes involving these feeds. To overcome this limitation, molecular reconstruction (MR) techniques have been developed to determine molecular representations of such mixtures based on readily measured bulk properties [5]. The Laboratory for Chemical Technology at Ghent University, Belgium, has developed two software modules to implement the SEMK and MR methodologies. PR1ME is a simulation framework that seamlessly integrates the SEMK and MR modules, presenting a powerful approach to innovative hydroprocessessing [6]. Its implementation within commercial process simulators is currently under exploration, and it holds the promise of allowing users to probe the reactive section of a specific process and facilitate seamless integration with upstream and downstream unit operations. Additionally, being a plug-and-play software module in process simulators, PR1ME empowers users to conduct plant-wide studies with a strong fundamental basis across different simulation platforms. In this presentation, we introduce the architecture of PR1ME as a simulation framework and explore various approaches to make it compatible with plant-wide simulation platforms using the CAPE OPEN standards. By adopting CAPE OPEN standards, PR1ME aims to enhance collaboration and knowledge exchange within the chemical engineering community, ensuring transparency and interoperability. The compatibility with different simulation platforms is being investigated to further expand its usability, making PR1ME a potential valuable tool for advancing innovative chemical processes in a sustainable and efficient manner.
References [1] G.G. Martens, G.B. Marin, Kinetics for hydrocracking based on structural classes: model development and application, AIChE J. 47 (2001) 1607–1622. [2] J. Thybaut, G. Marin, Multiscale aspects in hydrocracking: from reaction mechanism over catalysts to kinetics and industrial application, Adv. Catal. 59 (2016) 109–238. [3] C. Pernalete Piña, K. Jacobs, F. Vermeire, K. Van Geem, and J. Thybaut, The role of hydroconversion in a circular economy : processing of fossil and polymer-based mixtures, in CTS-2021, Chemical Technology Symposium, Proceedings, Ghent, Belgium, 2021. [4] Yannick Ureel, Maarten R. Dobbelaere, Oğuzhan Akin, Robin John Varghese, César G. Pernalete, Joris W. Thybaut, Kevin M. Van Geem, Active learning-based exploration of the catalytic pyrolysis of plastic waste, Fuel, Volume 328, 2022. [5] S. Pyl, Z. Hou, K. Van Geem, M.-F. Reyniers, G. Marin, M.T. Klein, Modeling the composition of crude oil fractions using constrained homologous series, Ind. Eng. Chem. Res. 50 (2011) 10850–10858. [6] C. Pernalete, J. Ibañez, P. Mendes, K. M. Van Geem, , J. W. Thybaut, Hydrocracking of complex mixtures: From bulk properties, over fundamental kinetics to detailed product composition, Catalysis Today. 378 . (2021) 189-201
Cesar Pernalete, University of Ghent. Chemical Engineer with a Master degree in System Modeling and Simulation. Currently focused on microkinetics for hydrocracking. Chemical Process Simulation and Optimization as well as Data Analytics are my main areas of work. I like to solve problems via modeling and simulation for research, operations, design or planning activities in the crude oil refining industry.
11:40 | System modelling of methanol reformed fuel cell system with integration of Python Unit Operations | Malthe Linquist, Blue World Technologies
Blue World Technologies needed to create a process model to investigate the efficiency and power output of a fuel cell system in which the methanol is reformed. The reformer is an equipment that is inherently hard to model. Using the generic unit operations of the COUSCOUS library integrated in COFE, the exit composition and the energy needed for the process were not estimated as needed. Therefore, Blue World Technologies created a python code to simulate the reformation process. The code contains the reaction kinetics and calculates the energy needed for the reaction to occur. This python code was then integrated in a COFE flowsheet via the CAPE-OPEN Python unit operation provided by AmsterCHEM.
Malthe Lindquist has been working in the engineering field since 2021. Malthe began his career as an Intern at Blue World Technologies in 2021 and was promoted to Thermal Engineer in 2022. Malthe has completed a Master's degree in Thermal Energy and Process Engineering from Aalborg University from 2020 to 2022, and a Bachelor of Engineering – BE in Civilingeniør, Energi from Aalborg University from 2017 to 2020. Blue World Technologies actively develops and manufactures methanol fuel cell components and systems for the automotive and heavy-duty transportation sectors.
12:05 | HTRI Experiences with COBIA | David Gibbons, HTRI
For many years HTRI has implemented CAPE-OPEN support for a range of heat exchanger unit operations including the adoption of the CAPE-OPEN and Themo 1.1 specifications. More recently, COBIA has been successfully used to provide similar support for HTRI's fired heater application. COBIA made the implementation simple and just works as expected.
David GIBBONS is the representative of HTRI in CO-LaN. At HTRI he holds the position of Senior Vice President, Software Development. As such he is responsible for all HTRI engineering software products, including Xchanger Suite. Early on, like back in 2006, HTRI has wrapped as CAPE-OPEN Unit Operations the applications within the XChanger Suite. More recently, as reported at the CAPE-OPEN 2020 Annual Meeting, HTRI chose COBIA as middleware for Xfh Ultra®, a new component of XChanger Suite. To CO-LaN, it seemed time to report on the experience HTRI and its member clients have had with COBIA-based CAPE-OPEN interoperability.
12:20 | Lunch
13:30 | CAPE-OPEN Test Suite for PMEs | Malcom Woodman, MR Woodman Consulting
An overview of the proposed design for the CAPE-OPEN Test Suite for Process Modelling Environments, including the opportunity for discussion on how the proposed design will allow integration with the test frameworks used by individual vendors.
Malcolm WOODMAN is the director of MR Woodman Consulting Ltd that has supplied services to CO-LaN since 2018. MR Woodman Consulting Ltd provides engineering related scientific and technical consulting activities. consulting activities. It operates as a private limited company and was incorporated in 2016.
14:10 | Developing a unit operation model for membrane based subsea gas separation in the COMPMEM project using CAPE-OPEN COBIA | Olaf Trygve Berglihn, SINTEF
The COMPMEM project targeted the small industrial scale testing and qualification of a membrane process for sub-sea CO2 separation and reinjection. The pilot scale process was built and operated at SINTEF's facilities in Trondheim, Norway. Using the results of the pilot tests a counter-current membrane separation model was developed in FORTRAN with a standard C-interface, and this model was incorporated into a CAPE-OPEN PMC written in C++ using the CAPE-OPEN COBIA library and tools. During the development of the PMC, some issues were encountered due to deviations in how simulator vendors have interpreted the CAPE-OPEN standard for array parameters and the definition of enthalpy derivatives with respect to mole numbers. The PMC was successfully deployed in multiple CAPE-OPEN compliant simulators, leveraging COBIA's built in and seamless interoperability layer for COM-based implementations. The COMPMEM project was funded by GASSNOVA in the "CLIMIT DEMO" programme with SINTEF, Total, CCP (BP, Chevron, Petrobras), Equinor, Pertamina, and Aker Carbon Capture (coodinator) as partners.
Olaf Trygve Berglihn is a senior research scientist at SINTEF Industry, expert in chemical engineering unit operations and process plant. He is actively working on the development of software incorporating custom thermodynamic models and unit operations models that can be used in CAPE-OPEN aware simulators. He is the representative of SINTEF within CO-LaN. In 2010, Olaf obtained a PhD in chemical engineering from Norwegian University of Science and Technology (NTNU) working on the development of methods for dynamic simulation that exploits the mathematical structure of thermodynamic equilibrium formulations.
14:35 | Process Modeling in Dymola | Claas Heckel, 3DS
His presentation brings together several aspects of interest to CO-LaN, to the CAPE-OPEN community and to DYMOLA users. Dymola stands now as a new Process Modelling Environment featuring CAPE-OPEN support, here through a CAPE-OPEN thermodynamic socket. This socket has been implemented using COBIA, the CAPE-OPEN specific middleware developed by CO-LaN. Conclusive tests have also been carried out on a Linux platform, incidently proving the multi-platform capability offered by COBIA.
Dymola is a development and simulation environment based on the Modelica modeling language. It offers an object-oriented, acausal modeling approach that is well suited for modeling cyber physical systems.
For the dynamic simulation of system models in the field of process engineering, the use of accurate material data can be essential. In order to meet this requirement and to give the user maximum flexibility in the choice of thermodynamics and material property models, a CAPE-OPEN interface for Dymola has been developed.
The CAPE-OPEN interface allows for a standardized and seamless integration of existing thermodynamics and fluid property packages into complex system simulations. This unlocks new possibilities for research and industrial applications in the field of process modeling.
In this presentation the architecture of the interface is introduced and a few examples and possible applications made accessible by Dymola are presented.
Claas Henckel is the Multi-Physics Modeling Software Engineering Manager at Dassault Systems Deutschland GmbH. He graduated in 2013 from Hamburg University of Technology in Energy and Environmental Engineering. He develops Modelica content, mainly in the field of battery and process simulation. and in 2013 from Hamburg University of Technology in Energy and Environmental Engineering.
15:00 | Break
15:30 | Methods & Tools SIG progress report | Bill Barrett, US EPA (Remote)
16:00 | Presentation to be confirmed
16:30 | End of Day 1
18:30 | City Tour of Nancy | Starting at Hotel de Guise (1h through the beautiful city of Nancy)
19:45 | Conference Dinner | at Grand Café Foy
DAY 2 | October 12, 2023
09:00 | Start Day 2
09:00 | Annual General Meeting of CO-LaN | Richard Baur, Shell and Philippe Arpentinier, Air Liquide
10:00 | CAPE-OPEN Award Ceremony
10:20 | Potential of New DEXPI standards to support better data integration with process simulation | David Cameron, University of Oslo
The recently developed Process package for the DEXPI standard, also known as DEXPI+, provides a modelling language for representing the engineering information and requirements used in early-phase, process, design. These activities have been poorly supported by standards, so that Process Flow Diagrams are often shallow drawings, without linkage to the plant design. Similarly simulation data and stream tables are managed using legacy tools and spreadsheets. DEXPI+ provides a framework for organizing this early phase data so that it can be linked to plant design and used for operational optimization. The data model deliberately builds on concepts from CAPE-OPEN, and we believe that the model can support modified CAPE-OPEN interfaces that allow exchange of simulation set-up and results in a programmatic, vendor-neutral work. This talk will present DEXPI+ in this context and sketch some ways that it can support automation of simulation and process optimisation.
10:45 | Break
11:10 | Thermo SIG Progress report | Sergej Blagov, BASF and Jasper Van Baten, AmsterCHEM
11:35 | Investigating the impact of impurities in the CO2 streams for the Carbon Capture and Transportation value chain using MATLAB and CAPE-OPEN | Jens Peter Hansen, ECA Engineering Aps.
The recently developed Process package for the DEXPI standard, also known as DEXPI+, provides a modelling language for representing the engineering information and requirements used in early-phase, process, design. These activities have been poorly supported by standards, so that Process Flow Diagrams are often shallow
Carbon Capture and Storage (CCS) is gaining increased attraction as a method to reduce atmospheric CO2 emissions. Different methods exist to capture the CO2 from highly concentrated point sources, like cement and power plants, as well as large plants for capturing CO2 directly from atmospheric air are under construction. None of the methods will produce a 100% pure CO2 stream so the question is which impact different impurities might have, not only for the capturing processes but also for the downstream processes like cooling, liquefaction, transportation, and injection?
The routines for calling calculations of thermodynamic properties of CO2 mixtures have successfully been integrated into a MATLAB model (with great help and support from AmsterCHEM) and applied to help to answer above question. Main conclusions and experiences from implementing and using the code will be presented.
Jens Peter Hansen, More information coming soon.
Over several years, to support his consultancy, Jens Peter has invested in the development of various process models using MATLAB. In the work reported, Jens Peter takes advantage of the MATLAB Thermo Import from AmsterCHEM to get access to any CAPE-OPEN thermodynamic server from within the process model he developed in MATLAB for the field of Carbon Capture and Storage.
12:00 | Why and how CAPE-OPEN technology can help us to enable reliable modelling of Carbon Capture, Transport & Storage (CCS) systems? | Eduardo Luna-Ortiz, Pace CCS Ltd.
To take advantage of economies of scale, the nascent CCS industry is considering developing projects under a 'cluster' model, where many industrial sources will dispose their CO2 to a common transport and storage infrastructure. The operator of the transport/storage system will manage the operation of whole network, but it will not be able to manage the (CO2 capture) operation of each emitter. This is a challenging setup. Any changes on the emitters side will have an impact into the operation and integrity of the network and the storage. The operator should be able to understand how the system reacts to those changes. To achieve this, an integrated model of the whole asset (surface facilities as well as subsurface stores) will become a crucial tool to simulate and optimize the performance of the CCS hub.
In this contribution, we will discuss the current state of modelling practices in the nascent CCS industry (most of them a legacy from the oil & gas industry), the pitfalls of such approaches and the justification to use CAPE-OPEN technology to enable more consistent designs (as well as the challenges that we will still encounter).
Eduardo Luna-Ortiz is the Operations Director at Pace CCS, a London-based engineering consultancy in Carbon Capture and Storage. Eduardo holds a BSc in Chemical Engineering from Universidad Nacional Autónoma de México (UNAM) and a PhD in Chemical Engineering / Process Integration from the University of Manchester (UK). Eduardo later joined Imperial College London as a postdoctoral Research Associate at the Centre for Process Systems Engineering, where he worked on multiphase flow modelling, computational CO2 thermodynamics, advanced control of fuel cells, green hydrogen production and numerical optimization methods. It is worth noting that the Sargent Centre for Process Systems Engineering (CPSE) at Imperial College London was a partner in the EU-funded CAPE-OPEN and Global CAPE-OPEN projects: CPSE delivered the CAPE-OPEN Numerical interface specifications within the CAPE-OPEN standard.
12:30 | Lunch
13:30 | Training (On demand): How to easily develop a CAPE-OPEN Process Modelling Component and use a CAPE-OPEN Process Modelling Component in a process simulator
You will create a CAPE-OPEN Unit Operation in MATLAB, using a software from AmsterCHEM: MATLAB CAPE-OPEN Unit Operation. Without having to change anything to the Unit Operation, you will use it in the same flowsheet set up in several commercial process simulators, including ProSimPlus from ProSim, Aspen Plus® from AspenTech® and AVEVA™ PRO/II™ Simulation. The textual model of the CAPE-OPEN Unit Operation, as well as the flowsheets in each process simulator, are provided.
General concepts like ports, parameters, access to thermodynamic calculations will be covered by the course. These concepts will enable you to develop the simple MATLAB calculation script representing the model of the Unit Operation. The script accesses the properties of feed streams, defines calculations to be performed and sets properties of the outletstreams.
No in-depth knowledge of any of the process simulators used, or of MATLAB is necessary to benefit from this course. At the end of the course, you will have experienced how the underlying CAPE-OPEN technology, present in all the software tools used, simplifies the workflow for users of process simulation tools.
Jasper Van Baten from AmsterCHEM, is a leading expert in CAPE-OPEN, has developed its own suite of PME and PMCs, is regularly providing consultancy services on the implementation of CAPE-OPEN interfaces, is active in all CO-LaN SIGS.
Jasper received the CAPE-OPEN 2006 Award for the creation of the CAPE-OPEN based simulator COCO. He has been contracted by CO-LaN to develop COBIA.
16:30 | End of Day 2