With the help of BASF who facilitated the choice of the venue and many of the arrangements, CO-LaN organized the CAPE-OPEN 2014 Annual Meeting on September 9-11, 2014 in Mörfelden, Germany.
On September 9, 2014 a training session took place, dedicated to end-users of process simulation. The outline can be found here. Nine participants took part in this course.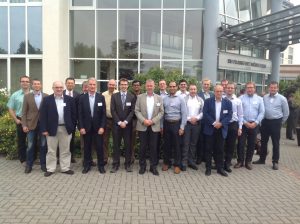 If only 20 or so people participated in the CAPE-OPEN 2014 Annual Meeting, many interesting presentations were made and lively discussions took place. See for yourself below.
It was a pleasure to meet, discuss, share with representatives from Air Liquide, AmsterCHEM, Bantrel, BASF, BP, Bryan Research & Engineering, Cameron, ChemStations, Honeywell, Heat Transfer Research Inc., KBC Advanced Technologies, Kongsberg Oil & Gas Technologies, Linde Engineering, LRGP, ProSim, Shell Global Solutions, Schneider Electric, Technische Universitat Berlin, Technip Benelux b.V., TOTAL, Vienna University of Technology.