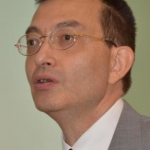 Within the CAPE-OPEN 2018 Annual Meeting, Michel PONS, in his position of Chief Technology Officer of CO-LaN as a contractor, delivered a presentation (access PDF here, 148 Kbytes) on the outcome of a recent Consultancy Scheme action that led to the delivery of an example code for a CAPE-OPEN Unit Operation socket.
The presentation starts with listing the different missions carried out by CO-LaN. The mission on training and migration facilitation is directly relevant to the present work since this mission ensures that tools helping component wrapping are available.
Then the presentation goes on by listing some of the tools developed to help with migration to CAPE-OPEN. Example codes have already been publicly released to the CAPE community as per the recommendations made by the UNIT SIG and the Thermo SIG. The Consultancy Service Scheme, first implemented from 2003 to 2006, was reinstated in 2013, in order to provide to Associate Members the level of expertise needed for implementing CAPE-OPEN interfaces.
The purposes and terms of the Consultancy Service Scheme are then detailed, especially that it was put in place to increase the uptake and seamless usage of the CAPE-OPEN interfaces.A list of recent Consultancy Services is given where it is evident that CAPE-OPEN Unit Operation sockets take a large place, with the Consultancy Service awarded to Intelligen being the last one so far.
Intelligen requested application of the Consultancy Service Scheme for implementing a CAPE-OPEN Unit Operation socket in SuperProp Designer, their PME. CO-LaN accepted the request under the constraint that the code delivered to Intelligen could serve as a code example to others. AmsterCHEM was chosen as the consultant, as in most of the recent Consultancy Service actions.
Development done by AmsterCHEM comes in three different parts: a DLL acting as the Unit Operation socket, a driver application serving to demonstrate how to drive the DLL from the PME and an example of a  CAPE-OPEN Thermodynamic socket based on the Ideal Property Package Manager code previously released publicly by CO-LaN.
It is then made evident that the development work for the PME vendor receiving the code, does not stop with receiving the code. Consequently the implementation of the code is SuperPro Designer is still underway at Intelligen even though the delivery was made by AmsterCHEM at the very beginning of 2018. A Developer Guide is being written by CO-LaN to help developers get acquainted with the code. The choice of a license for the code made available by CO-LaN needs still to be made by CO-LaN.
An overview of the code is then provided, stressing out that a large part of the code has been used at multiple occasions already, ensuring a high level of reliability. CO-LaN encourages any of its Members willing to make use of the code to make contact.