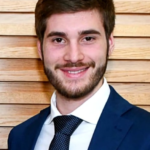 At the CAPE-OPEN 2021 Annual Meeting, Andrea GALEAZZI presented (PDF, 4043 Kbytes) on research work conducted at Politecnico di Milano together with Ahmed Sabri Mohamed ZAID (BSc from Universiti Teknologi Petronas in Chemical Engineering, working towards a Master of Science) and Professor Flavio MANENTI (Professor of Chemical Plants at Politecnico di Milano, Dipartimento di Chimica, Materiali e Ingegneria Chimica "Giulio Natta", where he coordinates the Centre for Sustainable Process Engineering Research).
The live recording of this presentation is also available within the CAPE-OPEN Channel on YouTube.
Andrea GALEAZZI described the opportunity that CAPE-OPEN gives Politecnico di Milano to develop and to make available a Unit Operation model of a catalytic plate-fin heat exchanger used in hydrogen liquefaction processes while such processes will be in high demand in the future to meet the challenge of developing hydrogen as an energy vector. The model created at Politecnico di Milano rigorously combines reaction, flow and heat exchange. Andrea stressed out that COBIA-based CAPE-OPEN lowers the threshold to develop a CAPE-OPEN Unit Operation while offering also the platform independence they are seeking.
Summary
Hydrogen liquefaction processes are gaining more and more interest as hydrogen is being selected as the future energy vector thanks to its sustainability. At the core of the H2 liquefaction process, there is the exothermic reaction of the ortho-to-para hydrogen spin isomers quantum conversion. This reaction must be carried out using an iron oxide catalyst. The main target is the development, as a COBIA-based CAPE-OPEN Unit Operation, of a catalytic multi-stream heat exchanger unit model where the o-H2 to p-H2 conversion takes place.