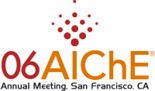 Within the AIChE Annual Meeting 2006, the 3rd CAPE-OPEN US Conference has been organized as a Topical Conference under the co-sponsorship of the AIChE 10e division and of CO-LaN. Previous editions of this conference series have been hosted by US Environmental Protection Agency for the 1st CAPE-OPEN US Conference and by US DOE (National Energy Technology Laboratory) for the 2nd CAPE-OPEN US Conference.
Four sessions were scheduled, gathering 21 papers and one discussion panel. End-users, commercial and academic developers have proposed papers on implementation and use of unit operation, thermodynamic and numerical CAPE-OPEN interfaces.
Agenda:
Thursday November 16, 2006
08:30 AM – 11:00 AM CAPE-OPEN current status: extensions and improvements (William M. BARRETT, chair)
12:30 PM – 03:00 PM CAPE-OPEN Unit Operations: development and usage (Ross Taylor, chair) – around 30 people attended
Paper 535a: CAPE-OPEN integration for Advanced Process Engineering Co-Simulation (Stephen E. Zitney)
Paper 535b: ProSim Plus – New CAPE-OPEN capabilities (Alain Vacher, Stéphane Dechelotte, Olivier Baudoin)
Paper 535c: Exchanger rating using CAPE-OPEN in a Process Modeling Environment (Joseph W. Holmes, David L. Johnson, Sunday Ogundiran, Mark Lichtenauer)
Paper 535e: New CAPE-OPEN Unit Operations socket in equation-oriented process modelling environment (T.H. Williams, C.C. Pantelides, B.R. Keeping, D. Reethinam)
03:15 PM – 05:45 PM CAPE-OPEN Compliant Thermodynamic Components (David Vickery, chair)
Paper 580a: Use of a CAPE-OPEN Thermodynamic Server in Legacy Codes (Alain Vacher, Stéphane Dechelotte, Philippe Guittard)
Paper 580c: COhvd in Distillation Modeling (Ross Taylor, Harry Kooijman, Jasper van Baten)
Paper 580d: Combined Thermodynamic Model Development and CAPE-OPEN Implementation – an Industry Case Study (Martin P. Breil, Michael L. Michelsen, Nicolas von Solms, Georgios M. Kontogeorgis)
Paper 580f: Thermodynamic utility – Importance & Potential CAPE-OPEN standard (Ensheng Zhao, Murugesh Palanisamy,Sanjoy Saha)
Friday November 17, 2006
08:30 AM – 11:00 AM CAPE-OPEN Numerical Components: development and usage (Larry Biegler, chair) – around 15 people attended
Paper 626a: Review of CAPE-OPEN numerical interfaces implementations (Michel Pons presented by Werner Merk)
Paper 626b: Fast Co-simulation of advanced power plants using neural network component models (Maxwell Osawe, David Sloan, Woody Fiveland, Jens Madsen presented by Ahmad Haidari)
Paper 626c: CAPE-OPEN compliant Multi-Objective Capability for APECS Systems (Karthik Subramanyan, Urmila Diwekar)
Paper 626d: An Intelligent Simulation-Optimization Framework for Waste Minimization Analysis in Chemical Plants (Iskandar Halim, Rajagopalan Srinivasan)
Paper 626e: Dynamic CAPE-OPEN Approach on Cluster Oriented Architecture (Laurent Pigeon, Bertrand Braunschweig, Thierry Gautier, Pascal Roux)
A CAPE-OPEN dinner was organized to gather the CAPE-OPEN community present in San Francisco at that time: 15 people attended this event on Wednesday November 15 evening.