Founded in 2004, Caspeo is providing services and products implementing innovative techniques in the field of process analysis and destined to industries of raw material transformation. Caspeo helps engineers and scientists to enhance their plants processing complex raw materials. They deliver process simulation software such as USIM PAC as well as independent consulting services.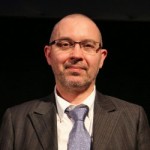 Caspeo joined CO-LaN on December 15, 2005.Stéphane BROCHOT, co-managing director, has represented Caspeo all along Caspeo's membership in CO-LaN, attending for example the CAPE-OPEN 2006 Annual Meeting.
On November 23, 2020 Caspeo notified CO-LaN of their decision to resign from CO-LaN membership. Stéphane BROCHOT mentioned that their "involvement in CO-LaN has never been a reality" citing a number of reasons for their lack of implementation of CAPE-OPEN interfaces in their software. He also wrote that "we continue to consider CAPE-OPEN standard as a good approach, and we hope to have the opportunity to implement it or to use it in the future."
CO-LaN is looking forward to see again Caspeo as an Associate Member.