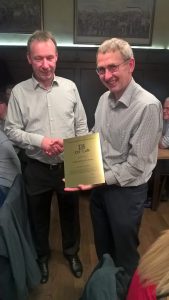 On October 5, 2016 in Munich, Germany, at the conference dinner held within the CAPE-OPEN 2016 Annual Meeting, Malcolm WOODMAN (right) was presented with the CAPE-OPEN 2015 Award by Richard BAUR (left), representing Shell Global Solutions within CO-LaN.
During the Global CAPE-OPEN project, as Engineering Technology Manager, within BP Process Simulation Chemicals Technology & Engineering Dept. Malcolm has managed, along with Peter BANKS, the Interoperability Task Force that conducted extensive testing of the then few implementations of CAPE-OPEN interfaces in commercial process simulation software.
Malcolm has been representing BP on the CO-LaN Management Board since February 2005 (CAPE-OPEN Annual Meeting held in Como, Italy). He has assumed the role of CO-LaN Secretary in January 2008 and till he became CO-LaN President in November 2010. He served as President till December 2015.
Malcolm arranged for a Pakistanese software company to develop a prototype leading to a first release of COLTT in 2007 during the CAPE-OPEN European Conference held in Heidelberg, Germany. Ever since Malcolm has supervised the work of the Interoperability Special Interest Group within CO-LaN with monthly meetings since January 2008.
Malcolm has also initiated the development by CO-LaN of a CAPE-OPEN wrapper around the GAP application from Petroleum Experts. He reported on this action at a conference organized by Aspentech.
Congratulations to Malcolm!