VMG has implemented both V1.0 and V1.1 thermodynamic standards in the interface so users may elect to use either standard. VMG has also developed a stand-alone unit operation tool so users may run a single unit operation from a CAPE-OPEN enabled process flowsheet simulator using VMG's thermodynamics.
The CAPE-OPEN interface was developed using the proven native interface to VMGThermo, used by a significant number of process simulation and equipment design companies around the world. VMGThermo is one of the fundamental blocks of VMG's own steady-state and dynamic process flowsheet simulator, VMGSim.
VMG CAPE-OPEN Tools
A set of tools for creation and testing of CAPE-OPEN property packages is provided with VMGThermo. The user uses the Configuration tool to create or change a CAPE-OPEN property package. This tool enables the user to add a description, select the thermodynamic method then determine the number of phases and finally add the compounds required in the CAPE-OPEN property package. Existing property packages may also be manipulated.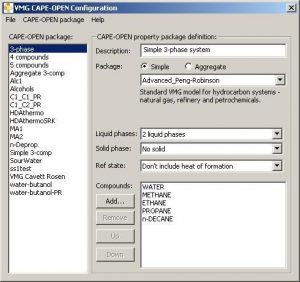 Select the thermodynamic method from the pulldown menu. The models may be selected from a standard set or the user may configure models for the liquid and vapor phases separately, thus creating an aggregate model.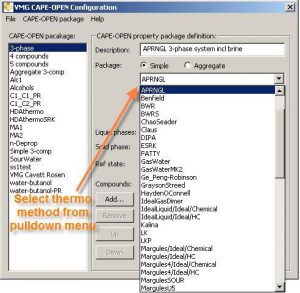 Find and select the compounds required using various search parameters such as name or formula or CAS number. As the components are selected, they are highlighted. At any time the selected compounds may be added to the package.
Once the methods and compounds have been chosen and sorted into the desired order, the CAPE-OPEN package may be saved for use in any CAPE-OPEN aware simulation environment.
The VMG Unit Operation socket tool enables use of any CAPE-OPEN enabled unit operation to be run directly using a VMGThermo property package.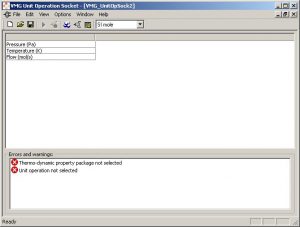 The user selects the property package and unit operation to be used from the lists offered.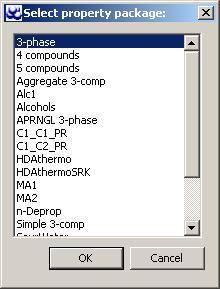 The user then configures and provides the unit operation data then the calculation will run. The results using the APRNGL 3-phase property package and a three phase separator object are shown below.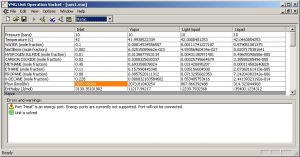 The following example using COCO (http://www.cocosimulator.org) is presented as a demonstration.
Testing with COFE
From the COFE user interface, a VMG CAPE-OPEN property package called APRNGL 3-phase is added to the list of thermo-systems. The thermodynamic model is then run in the flowsheet using the new 3-phase separator in COFE.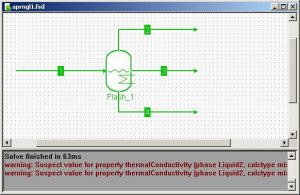 A summary of the calculated stream compositions and phase splits is shown below.
The results obtained in a third party process simulator – in this case COFE –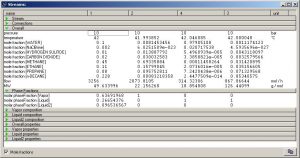 are identical to the results from VMGSim as shown here.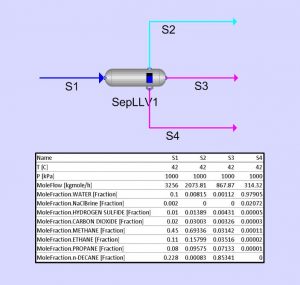 Similar tests running a comparison calculation for a depropaniser tower using the same property package in VMGSim, COFE and ChemSep LITE were run with the results shown below.