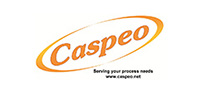 On December 15, 2005, the CO-LaN Management Board approved the application for membership of Caspeo.
Caspeo is providing services and products implementing innovative techniques in the field of process analysis and destined to industries of raw material transformation. The activity of Caspeo is centered on Material Balance Engineering. Caspeo develops advanced software tools and proposes associated expertise to answer industrial needs in terms of process design and optimization, sampling and metallurgical accounting.
Caspeo was created in 2004 within the frame of the BRGM (French geological survey) spin-off policy.
Welcome to Caspeo!