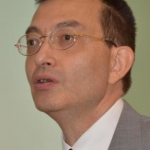 SARL Michel Pons Technologie provided CO-LaN with support in administrative duties, supervised activities of the Special Interest SIGs, conducts interoperability testing, managed the CAPE-OPEN forum as well as the CO-LaN website and acted as CO-LaN Chief Technology Officer (). Michel PONS was the owner and manager of SARL Michel Pons Technologie.
Since 1984, Michel PONS had developed an expertise in modelling and simulation, holding various process engineering and research & development positions within TOTAL and the companies which were absorbed by TOTAL over the years. Michel PONS was also a part-time adjunct professor of chemical engineering at Ecole Nationale des Industries Chimiques from 1993 till 1999, developing there, among other courses, a course on process modelling and simulation. He was an invited member of the CAPE Working Party of the European Federation of Chemical Engineering as well as a member of the Distillation and Absorption Working Party of the same organization. Michel PONS left TOTAL at the end of 2004 and started its consultancy firm in January 2005.
Michel PONS started to be involved in CAPE-OPEN back in the mid-90s when the first industrial consortium preparing for CAPE-OPEN was formed: OO-CAPE. As Process Simulation Team Manager at ATOFINA, he then represented its parent company (ELF, TOTALFINAELF and subsequently TOTAL), within the CAPE-OPEN, Global CAPE-OPEN and GCO support projects, all funded by the European Commission.
Within the CAPE-OPEN project that he formally joined in 1998, he was in charge of the Work Package targeted at numerics. Within the Global CAPE-OPEN project, he led the work package defining CO-LaN and disseminated about it (ICheaP-5, FOCAPO 2003) while within GCO Support he made a number of communications informing on CO-LaN and CAPE-OPEN and participated in CO Tour Days. Together with Bertrand BRAUNSCHWEIG, his work on CAPE-OPEN was honored in 2006 by the 1st award for Recent Innovative Contributions in Computer Aided Process Engineering presented by the CAPE Working Party of the European Federation of Chemical Engineering.
After being directly employed by CO-LaN as Chief Technology Officer in 2005, Michel PONS went on to supply consultancy services to CO-LaN through his company, starting in January 2006 and till end of 2022.
Communications about CAPE-OPEN as Process Simulation Team Manager at ATOFINA:
May 2001 – ICheaP-5: Global CAPE-OPEN results to date.
October 2001 – SIIT2001 – CAPE-OPEN (CO) standards: implementation and maintenance
May 2002 – ESCAPE 12: "Open Software Architecture For Process Simulation: The Current Status of CAPE-OPEN Standard"
October 2002 – AspenWorld2002: "The value of the CAPE-OPEN standard for ATOFINA"
January 2003 – FOCAPO 2003: "Missions of the CAPE-OPEN Laboratories Network"
June 2003 – ICheaP-6: "Industrial implementations of the CAPE-OPEN standard"
Communications about CAPE-OPEN as Chief Technology Officer at CO-LaN:
May 2007 – ESCAPE 17. "A deliverable from CO-LaN to CAPE-OPEN developers and users: the CAPE-OPEN Logging and Testing Tool (COLTT)"
June 2014 – Chemie Ingenieur Technik: "CAPE‐OPEN: Interoperability in Industrial Flowsheet Simulation Software"