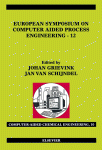 Authors: Stephen E. ZITNEY and Madhava SYAMLAL
Affiliations: Aspen Technology, Inc., Cambridge, MA 02141, U.S.A and Fluent Inc., Morgantown, WV 26505, U.S.A.
Reference: Computer Aided Chemical Engineering (2002), vol. 10(C), pp. 397-402.
Abstract: "This paper describes recent efforts to seamlessly integrate process simulation and computational fluid dynamics (CFD) using open standard interfaces for computer-aided process engineering. A reaction-separation-recycle flowsheet coupled with a CFD stirred tank reactor model is presented as an example to demonstrate the applicability of the integration approach and its potential to improve process engineering. The results show that the combined simulation offers new opportunities to analyze and optimize overall plant performance with respect to mixing and fluid flow behavior. © 2002 Elsevier B.V. All rights reserved."
DOI: 10.1016/S1570-7946(02)80094-3
Comments: Steve ZITNEY presented the paper as a communication to the ESCAPE 12 conference, making there a live demo of a CFD reactor model calculated within a flowsheet, including a recycle, developed in Aspen Plus.