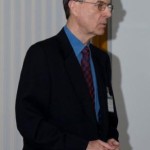 Within the 1st CAPE-OPEN European Conference, Peter BANKS (BP), leader of the Interoperability Special Interest Group, delivered a report (PDF, 918 Kbytes) on the activities of this Special Interest Group in 2003.
Peter starts by stating the objectives pursued by the Interoperability Special Interest Group. He then details two actions of interoperability testing, one conducted by BP and Aspentech and the other one by ATOFINA (subsidiary of TOTAL), Process Systems Enterprise and Aspentech. Both proved to be satisfactory. He then lists a number of Process Modelling Components which have been developed in 2003.
A score of lessons have been learned from the interoperability testing and from the exchanges with software vendors implementing CAPE-OPEN. These lessons have been made available to CO-LaN membership.
Then Peter outlines the steps considered for 2004:
Continue to monitor lessons learnt in interoperability developments.
Promote self-categorisation of component compliance by providing interface monitoring tools and updated testers.
Continue with limited interoperability testing, e.g. with PRO/II.