While CO-LaN had no booth per se at ACHEMA 2006, Technische Universität Hamburg-Harburg kindly displayed a CO-LaN poster on their booth and answered any inquiry about CAPE-OPEN.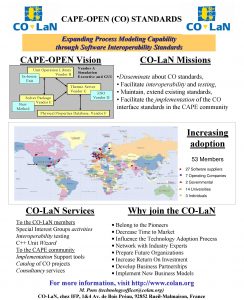 Also CAPE-OPEN was mentioned prominently on the HTRI booth.


AixCAPE e.V. made an oral presentation on May 15. The subject was the integration of shortcut algorithms into flowsheeting simulators through CAPE-OPEN interfaces. You may find the abstract here. The presentation dealt withintegrating shortcut algorithms into flowsheet simulators by means of the CAPE-OPEN standard. The experience gained in this implementation has been used to develop the.NET Interoperability Guidelines put together with Bill BARRETT.