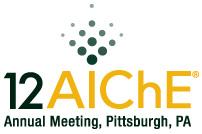 CO-LaN has been present at many AIChE Annual Meetings since the early 2000s. The presence was sometimes organized as Topical Conferences, sometimes as individual papers or, at other times, as sessions devoted to CAPE-OPEN implementation and use. At the AIChE 2012 Annual Meeting, CAPE-OPEN was present during two consecutive sessions, sponsored by Area 10e of the CAST division of AIChE. AIChE Annual Meeting was organized from October 28 till November 2 at Pittsburgh Convention Center in Pittsburgh, Pennsylvania.
Session 10E05 presented design, implementation and use of the CAPE-OPEN standard. CO-LaN is grateful to the organizations that agreed to share their experience on CAPE-OPEN.
Session 10E07 discussed two proposals by CO-LaN: flowsheet monitoring interfaces and a CAPE-OPEN object model. Feedback from software developers and vendors was sought on these two proposals.
Eighteen people attended session 10E05 and twelve session 10E07.