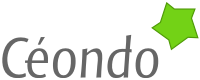 address : Bülsestr. 56
45896 Gelsenkirchen
GERMANY
phone : +49 209 386 19127
Approval date : 29/10/2007
Céondo is a one man consultancy founded by Loïc d'Anterroches in 2007. It started in UK as Céondo Ltd and in 2014 continued as Céondo GmbH in Germany. Céondo provides custom scientific software development and services for the oil & gas, chemical, pharmaceutical and crop science industries.
CAPE-OPEN related activities
Loïc attended the CAPE-OPEN 2012 Annual Meeting.
Loïc attended the CAPE-OPEN 2018 Annual Meeting where he participated in the many discussions that took place, including the ones on COBIA licensing scheme.