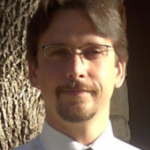 On October 12, 2017, within the CAPE-OPEN 2017 Annual Meeting, Clay JONES, a senior development engineer at Optimized Gas Treating, Inc. (OGT) gave a presentation (PDF, 1703 Kbytes) to introduce OGT to the CAPE-OPEN community.
OGT's application for Associate Membership in CO-LaN was recently approved and the CAPE-OPEN 2017 Annual Meeting was the first participation of OGT to such a meeting.
Clay JONES gave first an overview of Optimized Gas Treating, Inc. as a company and then of their software, ProTreat®, in terms of application range, features and customers. Clay subsequently described what makes ProTreat® different from other simulation packages. He went on with briefly discussing the COM interface available to let ProTreat® interoperate with other pieces of software. For example this COM interface has been used to make ProTreat® interoperate with VMGSim™ from Virtual Materials Group, Inc.. With respect to CAPE-OPEN, OGT plans to start from the existing COM interface in ProTreat® to build up the necessary CAPE-OPEN layer. The first objective is to make ProTreat® a CAPE-OPEN Unit Operation pluggable in any PME. The second objective is to make available ProTreat® thermodynamic models as CAPE-OPEN Property Packages.