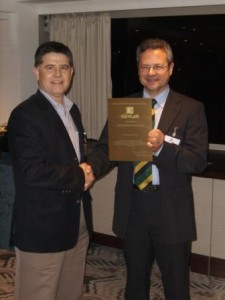 During the events held in Cannes by CO-LaN, the CAPE-OPEN Award 2005 was given to Fernando Aguirre (left) by Werner Merk, President of CO-LaN on March 9, 2006.
Fernando is Vice President Business Development at Heat Transfer Research, Inc. The CAPE-OPEN Laboratories Network presented the CAPE-OPEN 2005 Award to Fernando for HTRI successful commercial implementation of the CAPE-OPEN Unit interface in a specialized engineering software suite with a global user base. Fernando associated Joe Holmes and Mark Lichtenauer to this recognition as the main developers of the CAPE-OPEN interfaces in the HTRI Xist Suite of software products. Fernando also stated that "We are definitely committed to CAPE-OPEN as the way to go and will continue supporting these efforts."
Congratulations to HTRI!