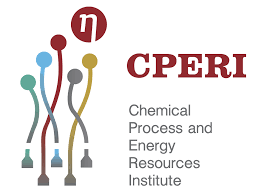 address : Centre for Research & Technology Hellas (CERTH)
Chemical Process & Energy Resources Institute
6th km Harilaou-Thermis
GR-57001, Thermi, Thessaloniki
GREECE
phone : +30 2310 498112
Approval date : 28/8/2004
Chemical Process Engineering Research Institute, a non-profit research and technological development (RTD) organization was founded in 1985 in Thessaloniki, Greece. From 1987 to March 2000, Chemical Process Engineering Research Institute was a member of the Foundation for Research and Technology-Hellas (FORTH), headquartered in the island of Crete. In March 2000, Chemical Process Engineering Research Institute became a founding member of a new research center, the Center for Research and Technology-Hellas (CERTH), established in Thessaloniki and administered by the General Secretariat of Research and Technology (GSRT) of the then Ministry of Development, while in October 2009 GSRT became part of the Ministry of Culture, Education and Religious Affairs. CERTH until today is the sole research center existing in Northern Greece, within the regions of Macedonia and Thrace. The European Commission and GSRT have supported the initial development of CPERI's facilities and infrastructure through several regional structural grants.
As of January 1, 2021, CPERI is an Associate Member in Group C as per the bylaws adopted on October 15, 2020.
Representatives
Professor Costas KIPARISSIDES, Professor of Chemical Engineering at Aristotle University of Thessaloniki and Director of the LPRE at CPERI, was at first the representative of CPERI in CO-LaN. Dr Athanasios PAPADOPOULOS, Principal Researcher, is the designated representative since January 2021.
CAPE-OPEN related activities:
CPERI developed with Polymers Ltd (Thessaloniki) a new software for the design, simulation, and optimization of polymerization processes. The software is described in a paper published in Macromolecular Reaction Engineering (2010). The software implements CAPE-OPEN technology for interoperability purposes.